Testimonials | Executive Auto Body in Wilmington, DE
Best most professional body shop in New Castle area.  Mike and his team go out of their way to get you home (if you need a ride) and deliver your ride when it is done.  They keep you informed of the status (all schedules are never perfect).  They will work with your insurance company to alleviate hassling you.   They make sure you are completely satisfied, and give you options without blindsiding you with unnecessary parts, labor or extras not requested.  Rates are very equitable and customary.
You are so friendly, professional, and extremely talented in the skill of repairing cars. Your office personnel is very friendly, helpful, supportive, and gave me wonderful customer service. You did a beautiful job on my repair and also did an awesome job on wheel alignment and replacing tire irons which were worn. I feel safe driving my car again. No doubt about this – your best advertising is words from happy customer. Many thanks again to you and your wonderful staff for the care you gave my care.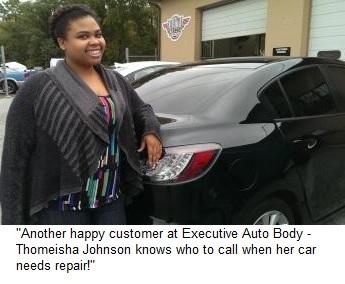 I have been a VERY satisfied customer of the Executive Auto Body Shop. I have come to trust Mike and he is friendly and dependable. I will certainly recommend the Executive Auto Body Shop to all my friends and acquaintances.
Dear Vincent and Mike;
Just a short note to tell you how pleased I am with the way you have restored my car. I looks beautiful and rides smoothly.
Thank you for the interest you took in the work. It looks beautiful.
It was a pleasure working with all of you. Mike, you stuck to your word (that means a lot). We will recommend you to our friends. You should also know that Sherry is an asset to your company with her very pleasant telephone voice and eagerness to help. Have a happy holiday and thanks for everything.
To everyone @ Executive Auto Body I would like to say Thank You very much for doing such a great job on my car. I know you ran into a lot of problems day to day. The car looks new again and hopefully will stay that way. You were very professional and helpful when I called about the famous Elantra. So please pat yourselves on the back for a job very well done. It was a mess and now I can't even tell.
I stopped by your auto body shop today. I am so glad that I did not give up on looking for that place after an hour of frustrating search. You and your coworkers friendly greeted me. When you gave an estimate for my car. You answered my questions very clearly. You took the time and explained everything to me very patiently despite that I was so naive about cars. You made those scary mechanical terms to be a lot more interesting and easier to understand. I normally don't have good impressions about mechanics. But you didn't take advantage of me because I am a young, inexperienced, Asian girl. Your kindness and helps really brightened my day. I can finally trust myself that there are good people out there like you who sincerely like to help others. I would just like to let you know how happy and thankful I am for what you have done for me. I want to thank you for your sincerity of helping your customers.
Dear Mike and Staff:
By the time you receive this letter, you will have also received a basket of fruit.
The work that was performed to repair and restore my '76 Seville was truly outstanding and you are all to be congratulated.
Artists usually autograph their work to receive recognition for an outstanding performance. Since I could not find your signatures, or give you all a standing ovation, the very least I could do is demonstrate my appreciation for a job VERY WELL DONE!